Gliding Times
---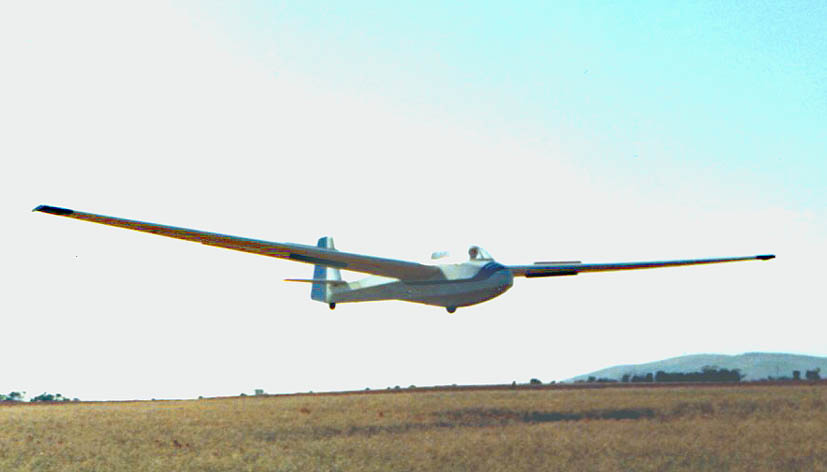 When I was studying my undergraduate degree at Adelaide University, I had plenty of opportunity to sample as many as I liked of the various clubs and societies on offer. In 1985 I joined the gliding club, and commenced learning to fly gliders. The idea was that we flew the twin-seater aircraft under the tutelage of the club instructors until they deemed us to be sufficiently safe pilots that they were willing to leave the aircraft in our hands to fly solo.
During this time, I also learned a fair bit about glider maintenance and repair - while I was learning to fly the Bergfalke (one of the club-owned two-seater craft), the club's other two-seater (the Bocian) was being restored and resurrected in sheds at West Beach. Each weekend I'd head out to the airfield at Lochiel, an hour or so north of Adelaide, and get my flying practice; and then once a week during the evening I'd head down to West Beach to continue applying dope (the stuff used to undercoat the wings of fabric-and-wood aircraft) or paint to the Bocian in an effort to make her airworthy again. As you will see from the following photographs, we did eventually succeed, and at last the Bocian was back in the air. The club has also owned other aircraft from time to time, but the Bergfalke (or "Bergie", as we affectionately called her) and the Bocian have a special place in my heart as the two craft I spent most time in the air with.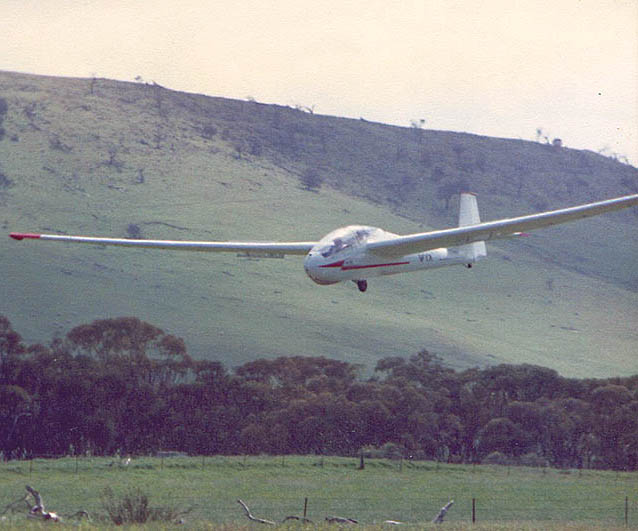 The next weekend after going solo, the Bocian became airborne again and I got to fly her. Like the Bergie, she was a wooden aircraft; unlike the Bergie, her fuselage was a semi-monocoque construction, which gave her very different handling characteristics to the older aircraft. My log entry for that flight says: "Check [flight] in Bocian with Andrew. Launch and landing odd; likewise rudder. Thermalled to 3800 feet with an eagle on our tail. Nicer than Zulu Mike![the Bergie]"
While the gliders were airborne, we communicated with them using a radio (which doubled as a convenient seat for those waiting at the launch point for the glider to return). This radio was also used to communicate with the winch that launched the gliders into the air. If you haven't tried it, a winch launch is a real treat - you put a truck with a big winch attached to it at one end of an airstrip, put a glider at the other, and attach one to the other with a steel cable. When the pilot is ready, the winch starts winding in the cable and dragging the glider toward it, with an effect very similar to what you'd observe when a small child runs across a field pulling a kite behind them. A winch launch is a real buzz to pilot, because that glider-on-a-string rises into the air at forty five degrees, and fast! A helluva lot more fun than being towed into the air by a crop duster plane, I must say!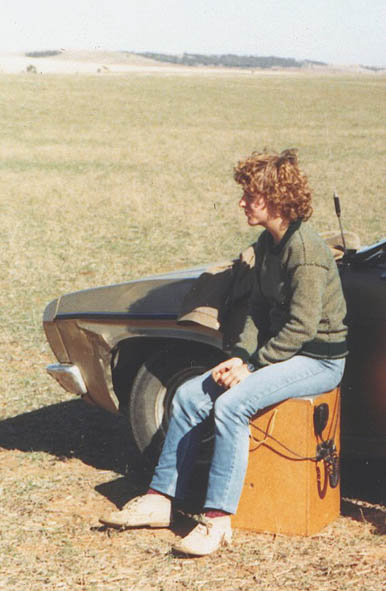 I spent a total of eighteen months flying as often as could manage. In practice that usually meant spending every Saturday on the airfield. I'd get up early, meet up with the others who were planning to fly that day, and we'd all head off to Lochiel. A typical flying day would entail arriving on the airfield at around 10am; we'd then haul the gliders out of the hangar and wash and prep them for flying; work out who was flying when and who would drive the winch, and then get started. We'd take turns taking the aircraft up for as long as they could be persuaded to stay up. You never knew how long you were going to get in the air, because it all depended on what the air itself was doing - would you find good, reliable lift or not? In a typical day's flying you might get two or three long flights if you were lucky, or maybe half a dozen shorter ones if the weather didn't want to cooperate. At sundown we'd wash the gliders down and put them away in the hangar for the night, then head down to Lochiel Pub for dinner, and arrive home again late in the evening. Here's a small selection of comments from my log book, to give an idea of what flying gliders was like for me.
"Solo flight in Bocian. Scrappy lift (1/2 knot); thermalled with Bergie behind. Very enjoyable flight."
"MAGIC FLIGHT! Followed Bocian and Phoebus [another aircraft owned by the club] into thermal, which I went back to every time I got below 2000 feet. Got to 3900 feet."
"Got too low - gave a tree a fright!"
"Mutual flight with Bob G - very difficult thermals - he was impressed by my flying skill (!!?)"
"Discovered that 1200 feet is exactly the height needed to go and check out hang gliders on the Ridge!"
"Sniffed under the clouds [for lift]: not a hope!"
"Cloud lift was rough, and close to Ridge (1500 feet). Left for another thermal further away from the Ridge and didn't find one."
"Hunted around in zero sink for a while, then attempted to go on to bigger and better things - and came down like a brick!"
"Magic mutual flight with Russell N. Eagle flew 15 feet away from us - took photos. Flew around cloudbase (3100 feet)."
So why did I stop flying after eighteen months or so? Well, a change of circumstances (ie. moving out of my parents' home into student share housing) meant that I didn't have the spare cash I'd had before. While the Adelaide Uni gliding club was far cheaper than any other club around, it still cost more than I could afford after moving out on my own, and I had to stop flying. It nearly broke my heart. I wrote this piece of very bad but heartfelt poetry a little while after (in October 1986), to express how I felt about no longer having wings.
Life On Earth
Ground bound I stand,
Reaching up
For the part of me I left in the Blue.
My home is the sky:
Life on earth is partial, incomplete.
Crippled, my eyes follow the gulls,
Envying them their freedom to fly when they will.
Cumulus hangs above me -
So close, so close!
Why do I remain below,
When I should be aloft?
The sky is my lover,
Sometimes gentle, sometimes savage,
Always tantalising:
My yellow brick road to the winds and currents of passion.
Stranded here on terra firma,
Watching aircraft fly overhead.
Why them, not me?
Farewell, my love
Until we meet again.
---